Beyond the first glance of a virtual tour comparison, the behind-the-scenes features included with iGUIDE® reveal many benefits for agents, buyers and sellers. Here are a few of the reasons why iGUIDE is a better choice when marketing your home in today's competitive environment.
A full year, rolling 12 months, market study completed by iGUIDE has revealed superior results. When compared to marketing your property with just photography or other types of virtual tours, properties listed with an iGUIDE sold faster and for more money compared to list price!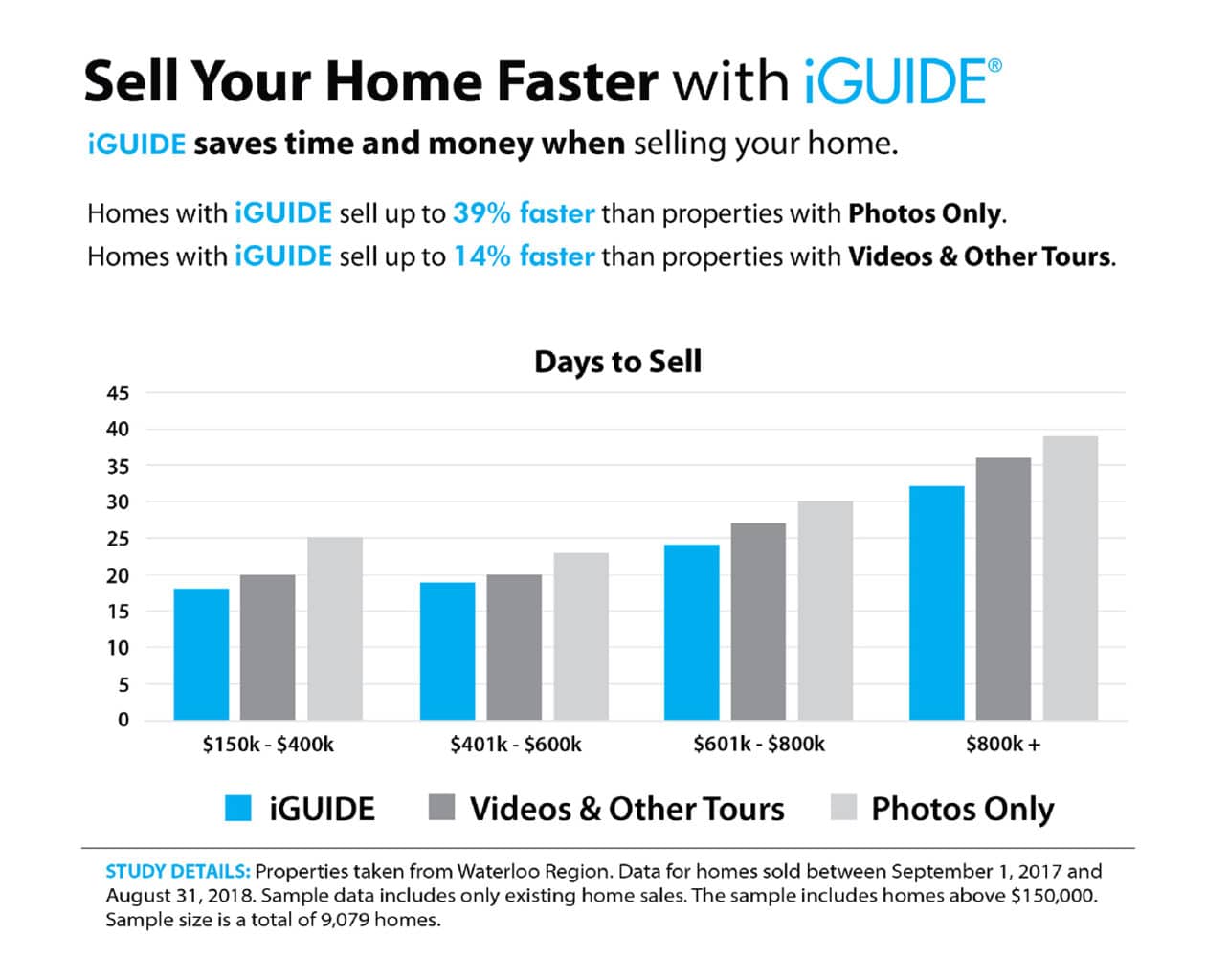 The iGUIDE marketing tool kit includes weekly analytics that are sharable with your sellers. The tour is easy to share over social media and works across all devices. An online feature sheet creator is easy to use and provided with every tour. Buyers love exploring properties listed with iGUIDE and as a result viewing times are long. Embedding the tour to your website is easy and it will help you to start improving your site's SEO! The whole tour is also downloadable for viewing on your laptop or tablet. This is a great feature because you will be able to demonstrate your marketing program easily and win more listings.
Professionally drafted floor plans are produced with time-of-flight laser scanning technology, with a typical dimensional uncertainty of 0.5% or smaller. iGUIDE floor plans are compatible with ANSI Z765, Alberta RMS, BOMA, and IPMS standards. Consequently, iGUIDE is the only technology of it's kind that is recognized by the BCREA for producing accurate results that conform to standards.
iGUIDE / Matterport Comparison Chart
| | | |
| --- | --- | --- |
| | | |
| | | |
| | | |
| Downloadable Tour / Offline / Self Hosting Available | | |
| Editable Images (Able to import into Lightroom/Photoshop) | | |
| Superior Measurement Accuracy | | |
| Method of Measurement Provided | | |
| Complete Content Delivery Solution (share and download property photos) | | |
| | | |
| | | |
| Branded Video Integration | | |
| Unbranded Video Integration | | |
Up-front, the iGUIDE viewer has everything you need. The floor plan is placed to the left side of your screen giving the homebuyer a true sense of where they are in the property. The immersive 3D property tour is complimented with agent contact information, quality floor plans, reliable details with floor areas and room dimensions, map details, professional real estate photo gallery, professional video integration and more.
If you are a real estate agent, builder or property manager- contact me to discover more about how the iGUIDE can benefit your marketing program. https://www.rodmountain.ca/contact/
More information about iGUIDE's market study can be found here: https://goiguide.com/blog/sell-faster